Identity Spectrum Exhibition at the Susquehanna Art Museum is about perspectives on the expression of gender
In the elegant space offered by the the Susquehanna Art Museum, works by 22 artists curated by Dr. Christine Filippone, are being displayed as a group show titled "Identity Spectrum".
"As one of the fundamental aspects of personal identity, gender has been examined by artists throughout history. Society is experiencing the increased politicization of identity expression while contemporary boundaries and norms are constantly shifting. Works selected for this exhibition provide unique perspectives on individual expression and the definition of gender, both visually and conceptually."
My monoprint "Today I was with Picasso" is also about gender identity. It is part a series of monoprints I created on the lack of women's rights in Islamic countries. My intent was to emphasize the inequality that exists based on socio-cultural norms rather than Islamic principles, which regard men and women equal in humanity.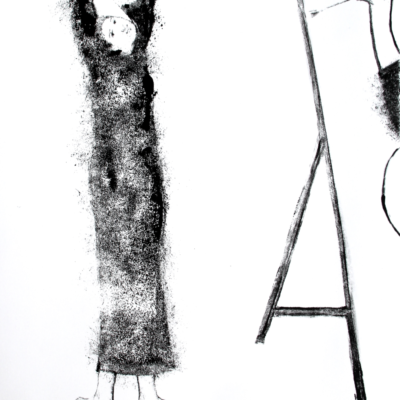 Currently women are deprived of even the most basic human rights that were advocated by Islam. The fairness and justice emphasized in the Quran and practiced in the early days of Islam is altered by the scholars and rulers who elaborate, implement and enforce them.
Today I was with Picasso is a reaction to the current developments at the ancient University of Mosul. Now that peace is established, the university is being rebuilt and students including many women are returning. For such an important progress, I adopted a master's lithograph titled "the Painter and his Model".
Dr. Christine is an Associate Professor of Art History in the Department of Art and Design at Millersville University, specializing in contemporary and 20th century art.
Susquehanna Art Museum's mission is experiencing creativity and exploring meaning through the visual arts. 1401 North 3rd Street Harrisburg, PA 17102