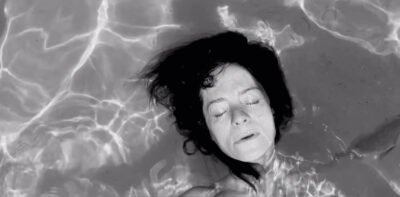 When we dream, we imagine our most daring selves in the wildest possible worlds that we create – fantastic places that is only ours. some of us continue dreaming during the day, seeking unrealized possibilities that might be subdued behind the day's mundane. a mélange of new and old memories, our dreams ease the weight of emotions so we can start each day with a lightened heart and mind. through these nocturnal fictions, we make sense of ourselves and even seek new meanings. what we remember from our dreams are stories whose contours are lost in the fog as memory itself is never accurate because we continuously reconstruct it. in the foggy theater of our dreams, we get to write and direct the play, and even act the characters. without these nocturnal theatrical escapes, we would not be able to recognize our most beloved but hidden desires, and fear or discover meanings for our existence. this is why I made this short film "dream room" in which I inhabited, reenacted and recreated images of the dreams I have been borrowing to make these most exquisitely fantastic worlds available to us, dreamers.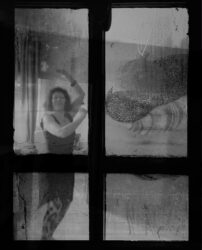 As I travel north and east and pass through towns with foggy windows each with its own happenings, I borrow stories. Happenings on an ordinary evening we witness from these windows allude to these stories.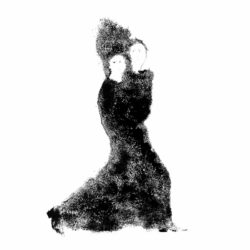 Allegories are about imaginary people with no definite time and place, not even a hidden meaning. In this film I am talking about how we lose consciousness of our separateness and passing time when we are having an intimate conversation. Only available as NFT.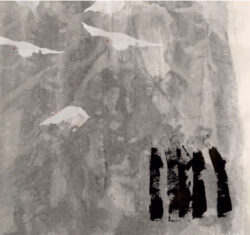 The present landscape is leaning towards a future with "absences" in our natural surroundings. My silent is intended to encourage people to stop and evaluate the present by inspiring an emotional response and curiosity, creating engagement. Changing minds and behaviors to protect what is remaining is my passion and goal. The 90 second animation shows people with no specific time and place watching the disappearance of the last remaining butterfly, the snow crane, firefly or the last falling snow or waiting for the waters to rise in a flood. My haikus accompany the films further emphasizing the possibility of a future with "absences". The deliberate simplicity of the film remains true to my desire to create with simplicity and ambiguity. As a multidisciplinary artist my passion is to create imaginary worlds that help conjure unrealized possibilities through challenging new ways of artmaking. This film was shown as part of the Denver Digerati's Silent Screen program during the Supernova Digital Animation Festival, in September, 2022.

.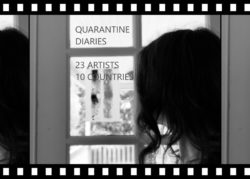 Quarantine Diaries – 23 Creators 10 Countries
A short documentary film I made hoping that it will be a recording of these humbling times during the pandemic of 2020 so we can remember the perceived slowness that seems to create more considerate individuals.
Videos made in isolation for our online performance, Among Flowers in Bloom — an interdisciplinary presentation of dance, classical music and art installation: Emily Bowman and David Crowe recorded their beautiful music inspired by the idea of the art installation which is walking lightly on earth. Julie Rothschild made a film of her dance as if she was moving around and within the imaginary art installation, responding to the artwork's narrative in the space of her own studio. While combining these independent recordings, I imagined the music to which Julie was dancing to and merged visuals from my art installation with both the rhythm of the music and the dance.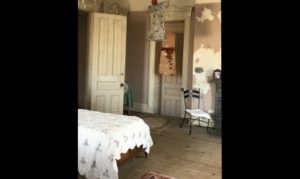 Clothes from the Past
I made a video of my installation "Clothes from the Past" after all the visitors left. I walked in each of the rooms displaying my exhibits. The creaking floors had a vague presence of previous lifes. The exhibits were at the 150 year old Dole Mansion near Chicago. Clothes from the Past Installation was installed at the Dole Mansion in Illinois in March 2017 as part of a solo exhibition series. Costumes of a period portray the status of the people, their traditions and the sophistication of a culture. I created garments similar to the ones worn by Turkish women and children in Anatolia and Europe from 17th to 19th centuries in a way to bring back and portray my culture. I referred to miniature paintings and literary sources to understand the styles of the time and studied the Ottoman textiles to create the embellishment on them.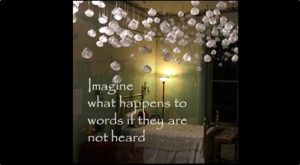 Words
My exhibition "Words" is an invitation to listen to each other more. This is a movie of the installation and the audio. The imagery I always had for what happens to words if they are not heard was that they would be floating forever in the sky or inside rooms if they are not heard. The idea behind this exhibition was born from this imagery. I asked people who they are, how they define themselves and if there is anything different they would have wanted to be. These are questions no one possibly asked them before and they are not easy to answer. Their recorded responses with an intense earnestness are the audio part of this exhibition. They are played in an overlapping and echoing manner as if the words are coming from a monologue far away in time.  The installation consists of 400 transparent spheres made of transparent sheer fabric hung from the ceiling. They are the visual representation of the spoken but unheard words.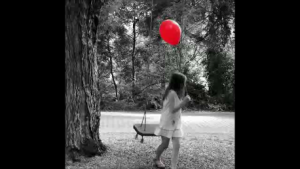 "Looking Back" is an autobiographical short movie which represents our stories in which we try to create coherent connections among our experiences that are supported by memory. It is created in Boulder and Istanbul and is displayed on the screen installed on a sculpture. The sculpture is a woman figure looking back.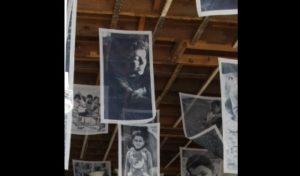 Floating Children is a short movie on my installation for the Children of Syria with which I intended to display the fragility of children in times of war. I collaborated with photojournalist Brian Rutter from Ireland. Black and white photographs of Syrian children printed on sheer fabric are hung from the ceiling in a way to seem like they are floating in the wind. I was inspired by a Japanese woodblock from 18th century of a woman whose handkerchief and concealed letters were carried away by a sudden wind. These children can also be carried away and disappear. The transparency emphasizes their fragility. To observe a child's delicate innocence feels weightless even under the most difficult circumstances. The lightness of the material is to convey this feeling of lightness.  
Poems in Silk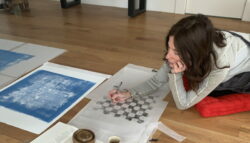 Poems in Silk is an art installation which includes poetry and printmaking – a collaboration between the multidisciplinary artist Belgin Yucelen, the internationally recognized and acclaimed poet Anne Waldman and engineer and artist Akın Köksal.