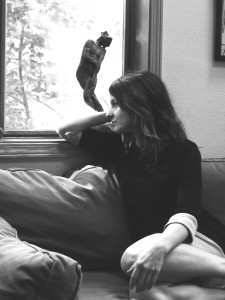 With my art, I intend to enhance consciousness. I want the viewer to join me in reconsidering who we are and where we are going so together we can achieve basic human wisdom.
For example, my sculpture series Journey of a Thousand Years for which I used etched mirrors as visual metaphors for self-identity was an analysis of how self is shaped. This series was a request to contemplate who we are so we move towards our purpose without distractions.  
The question of where we are going starts with individuals but applies more to humankind. If we don't have the time to think about this most necessary question, we remain where we are. So I started with a most intricate concept; time. With my Time sculpture series, I intended to encourage being more present and aware.
I created a number of artworks each with a contemplative theme that would lead us to where we are going:
Are we leaning towards a future with absences in our natural surroundings like the plants and animals which could be extinct someday? What will be Left?– a multi-venue art installation in progress.
How are we walking on this earth? Among Flowers in Bloom – a collaboration of dance, classical music and art installation with hand-made flowers that appear to be rising at one end suggesting disappearance and impermanence.
Are we listening to each other? Words – an installation of floating transparent spheres that represent words.
Are we thinking about the children in despair in remote countries in any way? Floating Children – an installation with photographs of Syrian children in war and For Children Who will never Fly a Kite – an installation of a bamboo and paper crane about the children in famine in Nigeria, Somalia, South Sudan and Yemen.
Do we realize that many women especially in Islamic countries have no rights? Overwritten Scripts – a print series elaborating on how the religious scripture was manipulated to empower men throughout generations.
In addition to enhancing consciousness, I intend to challenge imaginations by creating a fictional world beyond the existing, to conjure unrealized possibilities. In my Allegories print series, I created imaginary people with no definite time and place, not even a hidden meaning. With my What will be Left? print series, I encouraged the viewer to consider a future without most of the things we take for granted, such as snow, certain species of birds, butterflies and bumblebee by asking the question of what if?
Furthermore, some of my work is informed by my past and the desire to bring something out of the shadows of the past such as my Clothes from the Past installation of sculptural garments inspired by dresses from 17th to 19th centuries.
I want my art to communicate through its mere presence quietly and be recalled at a later time for slow evaluations. For all this, I must confess that I use the seductive beauty of art and also the higher truth that art is capable of conveying.