I am honored to share an art installation Poems in Silk of poetry and printmaking. The artwork is the result of a collaboration between myself, poet Anne Waldman, and engineer and artist Akın Köksal. As Anne Waldman says: "Working in collaboration is one of the most important practices for artists in these times. All kinds of new structures present themselves and new dimensions of space and time".
With referrals to history, mythology, politics, and spirituality, Waldman's poetry is intricate, intimate, and delightfully surprising. I had many late nights deciphering her poems and I am still not sure if I completely managed to do so. Then I made prints inspired by Gypsy Nun, trick o'death and crepescular. I created abstract forms that in my mind represented the powerful messages in her poems and printed them on diaphanous paper to give the feeling of impermanence. The installation has a deliberate simplicity and quietness so the viewers can have the space to contemplate Waldman's wisdom without any distractions. I am grateful to Anne for her sharing her beautiful wisdom with me.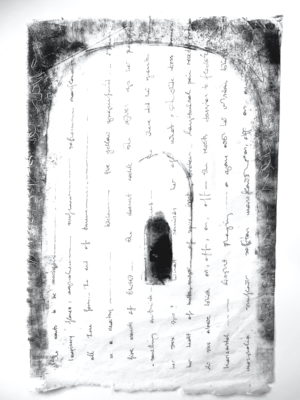 I would like to share a few prints and some sections from Anne Waldman's poems here:
Gypsy Nun inspired by a poem by the 20th century Spanish poet Lorca, is about a young woman whose desires contradict her religious calling. Through the visual details and the symbolic references Anne portrays, I visualized a room behind an isolating mashrabiya made of the poem itself.
Gypsy Nun
After Lorca
She wants to be weaving
imaginary flores:
magnolia
sunflower
saffron
moonflower
all these for
the end of time
In a nearby kitchen
5 yellow grapefruit
ripen
5 wounds of Christ
She doesn't cackle
she gives up her pain
—something outside —
distant—ho —
where did her youth
her sex go?
What reminds her of what?
A white dress loosens
Her heart of herbs, sugar,
of spice
isn't broken
Longitudinal pain recedes
further back
20 suns above blink on, off
on, off
She reverts tension to
flowers, horizontal
light playing
a game over her window
blind
magnolia
sunflower
saffron
moonflower
on, off
on
on
Anne Waldman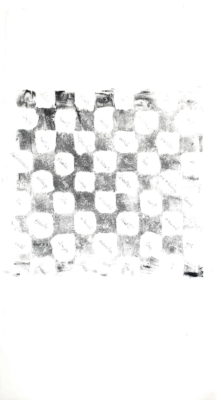 I created a print inspired by the talismanic shirts ornamented with text, magic squares, and other elements common to portable talismanic objects. In these shirts the use of letter magic provided a protective function through preserving the fleeting traces of human contact. Yucelen inspired by the poem trick o'death filled up each of the magic squares with Waldman's words on the awakening powers of death forming a deliberate contrast for a wish for longer life to create Death is Awakening.
this is what to do
libation in small drops
on heart center
coins of ancient India on eyes
feathers and serpentine
remembrance
and open words like talismans
that shake the cosmos
as in opening a crypt
asleep too long
for death is awakening
and the alive, like you, ahunted
like "art" like "phantasm"
they will guide you
around the heart
circle around heart's cold
with drops of amrita
leave them there
of candle, frugal
or flame
can she see?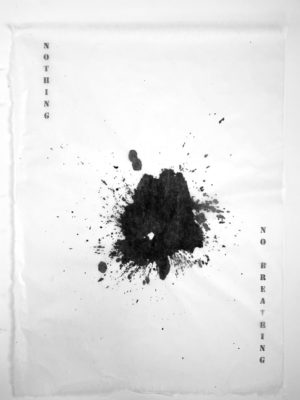 just nothing, no breathing is inpired by the following section of trick o'death:
she's getting out of this
into another maelstrom
or just nothing, no breathing
streets are quieter
world violence
feels less structural
lies as secrets seem truer now
The poems are used by permission of the author and the City of Lights, SF and Penguin Random House, NY.
The group exhibition PINKPROGRESSION: COLLABORATIONS which includes Poems in Silk is on display at the Arvada Center for the Arts and Humanities from July 2 – November 8, 2020.
Pink Progression: Collaborations features ideas of feminism, equality, inclusivity, gender identity, unity, and community. Over 150 artists, writers, dancers, and musicians utilize the power of networks to inspire social change.
You may make free reservations to see the exhibit at the following link.