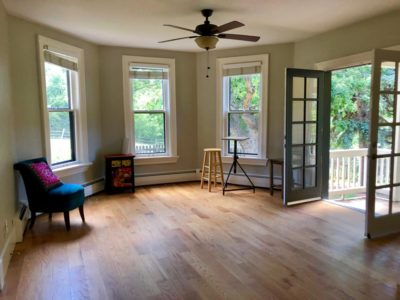 "House of Serein" is a dynamic creative place designed for community use and workplaces in Boulder. We offer private studios for creatives and freelancers and a communal setting to exchange ideas and build connections. The historical building located in a vast garden shaded with trees provides a meditative setting. All studios have views of the mountains or the garden and plenty of natural light through large windows. There is a trail behind the building for inspirational breaks. While designing "House of Serein", we envisioned a place where we would create with our souls and give something of ourselves to our work. The studios are located on west Canyon Blvd, five minutes walking distance from the Spruce Confections on Pearl Street.
Benefits include
Private Studios (with lockable doors)
High Ceilings
Natural Light
Exhibition Opportunities
Free Parking
High Speed WiFi
Communal Gathering Spaces
Mail service
Discounts on events
Communal Kitchen Area
Walking to Pearl Street
Trash Removal and Recycling
Starting Point of Several Hiking Trails
Our studios range from 133 sq.ft – 293 sq.ft in size and $350 -$1070 a month in price. These spaces are leased on a yearly basis with a 3 month trial period. All utilities included.
Please contact byucelen@gmail.com for further information.