Words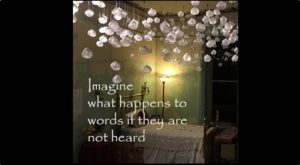 My exhibition "Words" is an invitation to listen to each other more. This is a movie of the installation and the audio.
Imagine what happens to words if they are not heard. The imagery I always had was that words would be floating forever in the sky or inside rooms if they are not heard. The idea behind this exhibition was born from this thought.
I asked people who they are, how they define themselves and if there is anything different they would have wanted to be. These are questions no one possibly asked them before and they are not easy to answer. Their recorded responses with an intense earnestness are the audio part of this exhibition. They are played in an overlapping and echoing manner as if the words are coming from a monologue far away in time. Remorse, pride or hope for change together with a desire to be heard is revealed in many of them.
Spoken words are actually sound waves. To me they carry the weight of the meaning intended for them when they are spoken. Their meaning however is lost and they become weightless if they are not heard by another person. The installation piece I designed which represent floating "words" consist of transparent spheres. About 400 spheres made of transparent sheer fabric are hung from the ceiling. They are the visual representation of the spoken but unheard words.
Thousands of words keep flying in the forgotten skies like lost souls. Can you hear them?
Looking Back
"Looking Back" is an autobiographical short movie which represents our stories in which we try to create coherent connections among our experiences that are supported by memory. It is created in Boulder and Istanbul and is displayed on the screen installed on a sculpture. The sculpture is a woman figure looking back.